Litter Pick
Join us for our next family friendly beach clean in Mayals!
We are particularly encouraging children and families to attend this event. Veggie friendly sweets available for any children that attend and non-alcoholic mulled wine for the grownups.
Date: Sunday 3rd December
Time: 10:00am – 12:00pm
Location: Blackpill Lido, next to the Blackpill Wildlife Centre
Please sign up here to let us know you are coming!
-
Ymunwch â ni ar gyfer ein digwyddiad glanhau traethau nesaf ym Mayals sy'n addas i'r teulu cyfan!
Rydym yn annog plant a theuluoedd yn arbennig i ddod i'r digwyddiad hwn. Mae losin sy'n addas i lysieuwyr ar gael i unrhyw blant fydd yno a gwin cynnes di-alcohol i'r oedolion.
Dyddiad: Dydd Sul, 3 Rhagfyr
Amser: 10am – 12pm
Lleoliad: Lido Blackpill, ger Canolfan Bywyd Gwyllt Blackpill
Cofrestrwch yma i roi gwybod i ni eich bod chi'n dod!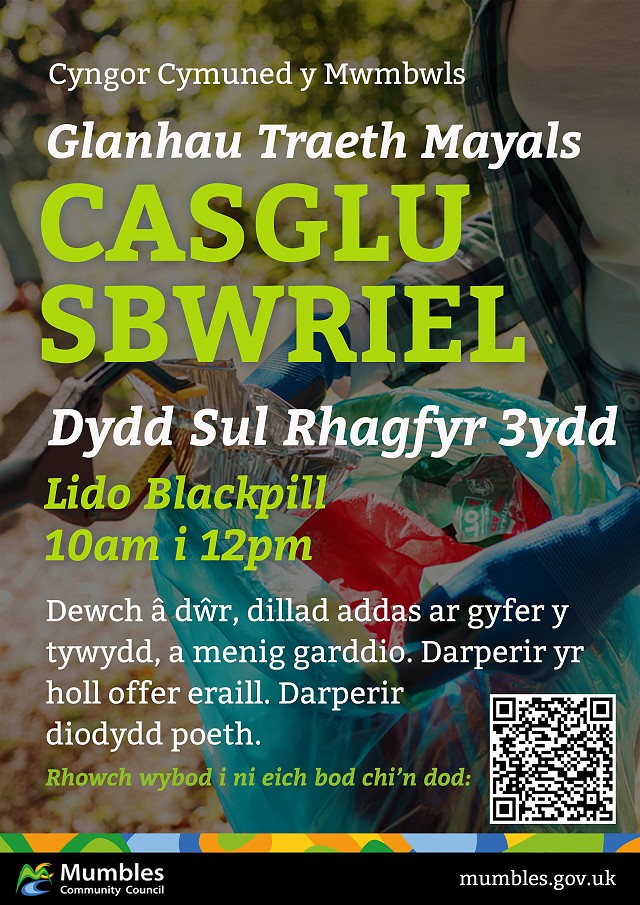 Date
Sunday 3rd December 2023
Venue
Blackpill Lido, next to the Blackpill Wildlife Centre